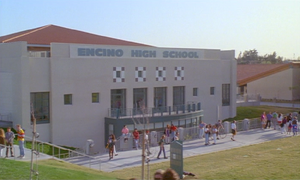 A high school in Encino, California, where
Dave
and
Stoney
enroll the caveman
Link
. The Encino High School mascot is a mammoth.
Much of the plot centers around Dave's dream of taking
Robyn Sweeney
to the
prom
and being crowned prom king.
Known teachers include Mr. Beady, Senorita Vasquez, Mr. Albert (unseen), and the science teacher.
Known students include Dave, Stoney, Robyn, Ella, Matt, and Kim.
Steve Koozer is a janitor at Encino High School and a friend of Stoney's.
Ad blocker interference detected!
Wikia is a free-to-use site that makes money from advertising. We have a modified experience for viewers using ad blockers

Wikia is not accessible if you've made further modifications. Remove the custom ad blocker rule(s) and the page will load as expected.