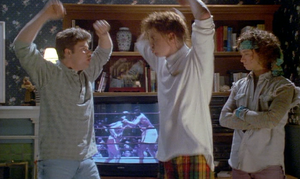 After Matt Wilson punches Link at Blades, Dave decides that Link needs to learn to defend himself. He shows him video tapes labeled Wrestling Classics Vol. 4, Kung Fu Brothers, and a boxing video.
When Matt interrupts the crowning of the prom king and queen to reveal to the school that Link is a caveman, Dave tries to stop him. Matt punches Dave and then Link picks Matt up and spins him around and body slams him, as on the wrestling video.
Ad blocker interference detected!
Wikia is a free-to-use site that makes money from advertising. We have a modified experience for viewers using ad blockers

Wikia is not accessible if you've made further modifications. Remove the custom ad blocker rule(s) and the page will load as expected.